Věda a "RECONNECTIVE HEALING®"
VĚDA A "RECONNECTIVE HEALING®"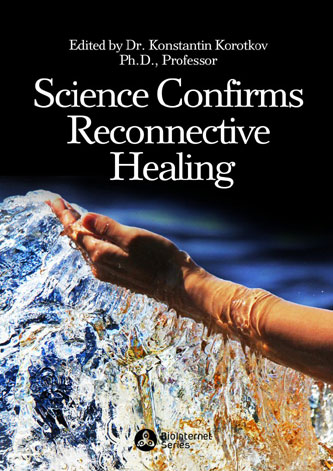 Celosvětovým průkopníkem  
Celosvětovým průkopníkem "RECONNECTIVE HEALING®" je již  25 let Dr. Eric Pearl. Původní profesí doktor chiropraxe, který v průběhu dvanáctilet vybudoval největší chiropraxi v Hollywoodu.

Nová úroveň léčení 
Standardní model uvažování vzdělaného lékaře byl testován zcela nestandardními projevy při léčení svých klientů. Docházelo často k okamžitému uzdraveni a to i u zdravotních neduhů, které nebyly důvodem návštěvy chiropraktika. Docházelo ke změnám i v jiných oblastech  jejich života. Sami klienti se ozývali, že také oni mají v rukou frekvence - zvláštní energii, kterou pomohli uzdravit své rodinné příslušníky a přáli si, aby je naučil pracovat s frekvencemi.
Cesta poznání
Rozhodl se zjistit, o jaké působení se jedná. Četl knihy, sjednával si schůzky s léčiteli a specialisty na mimosmyslové jevy, ale nikdy nenašel shodu s již známými technikami a metodami.
Zájem televizních společností o vystoupení Dr. Erica Pearla v jejich pořadech
V roce 1995 byl osloven producenty televizního programu The Other Side (Druhá strana), který se zabýval paranormálními jevy, poté co se o něm doslechli a požádali jej, aby v programu vystoupil. Po odvysílání jej začali navštěvovat lidé z celých Spojených států. Poté stále více producentů jej zvalo, aby vystoupil v jejich programech. Společnost Fox TV s ním chtěla udělat interview na konferenci v San Francisku, které se zúčastnil i doktor Artur Weil.
Pozvání na Arizonskou univerzitu
Doktor Artur Weil pozval Dr. Erika Pearla na Arizonskou univerzitu, aby udělal přednášku pro posluchače jeho programu integrované medicíny. A tak se dostal až k doktoru Gary E.R. Schwartzovi, který vede Human Energy Systems Department na Arizonské univerzitě. Doktor Schwartz mu navrhl, aby se na univerzitu vrátil a prováděl výzkum léčebných metod.
----------------------------------------------
Nová věda mění tradiční chápání zdraví a léčení. Zaměřila se na experimenty, které číselně vyjádřily účinky energie, světla a informací u lidských bytostí.
Po dobu několika let vědci spojeni s univerzitami Harvard, Yale, Stanford, ale i další významné instituce provedli vědecké studie o frekvencích Reconnektive Healing® - s využitím kombinací standardního měřicího zařízení, jako jsou elektrokardiogram a rentgen a špičkových měřicích zařízení na  bio-fotonové záření a elektrofotonické zobrazovací technologie.
Prostřednictvím těchto prácí, výzkumníci zdokumentovali měřitelný dopad rekonektivních frekvencí - včetně urychlené restrukturalizace poškozené DNA po sezení Reconnective Healing®, zvýšení termodynamické energie místnosti během sezení Reconnective Healing®, ale i před, během a po semináři Reconnective Healing®.
V čele výzkumů rekonektivních frekvencí, které jako první objevil Dr. Eric Pearl, je mezinárodní tým světoznámých vědců jako William Tiller, PhD, Gary Schwartz, PhD, a Konstantin Korotkov, PhD.
Dr. Eric Pearl vyškolil na svých praktických seminářích na 80 000 praktiků po celém světě i z řad vědců, lékařů a zdravotníků.
Níže jsou uvedené odkazy na již publikované studie. 
 http://www.thereconnection.com/science-and-research/
Bioenergtic Studies Conducted on
Reconnective Healing® Practitioners & Those Being Treated
by Gary Schwartz, PhD
The University of Arizona's Human Energy Systems Laboratory conducted a series of carefully designed, controlled scientific experiments with Dr. Pearl and other Reconnective Healing Practitioners to determine whether the Reconnective energy was something measurable and real in the laboratory. Dr. Pearl and several of his students served as senders while volunteers acted as receivers in the studies.
The multiple studies showed that the Reconnective Healing energy functions like an electromagnetic signal.
One study set out to examine what transpires when Reconnective Healing is applied to plants. Plant leaves were selected and matched for size and consistency. What was known was that when leaves are separated from their life source (stem or trunk) they die. When leaves are in this process of dying, they actually bleed—not blood or fluid—but light. Light leaves the organisms as they die. In each experiment, the control leaf in the pair was left to die naturally. The other matched leaf was subject to one of several healing modalities.
The naturally extinguishing leaf died in seven to ten days. The other leaf with energy applied lasted approximately 90 days–eight to ten times longer after receiving Reiki, Qi Gong or Reconnective Healing. But here was the interesting distinction: With Reiki, the leaf's recovery started fast and then faded; with Qi Gong, it started slower but lasted longer. However, when Reconnective Healing was applied, it started faster and stayed MUCH longer helping to keep the leaves alive as long as 90 days.
Study Of Body's Energy Changes In Non-Touch Energy Healing 2.
Reconnective Healing Performed On A Subject Suffering From Emaciated Lower Limbs
by Drs. Koji Tsuhiya, Toshiaka Harada, Hiroshi Motoyama
Changes in body's energetic conditions were measured by the AMI (Apparatus for Meridian Identification) through the three sessions of the Reconnective Healing performed on a subject who had lower limbs emaciated and had been unable to walk for 6 months prior to this study. Before the healing trial, significant Qi-energy deficiencies and left/right imbalances were detected in the subject's lower body, suggesting a condition in which substantial Qi had shifted to the upper body (+23%) and consequently the Qi in the lower body had been depleted. Similar upper/lower imbalances were detected in the autonomic nervous system function and the body's protective function, indicating that their activity levels in the lower body were significantly diminished. As the healing sessions progressed, both the Qi-energy deficiencies and left/right imbalances in the lower body were corrected and the normal balance of Qi-energy distribution in the subject's meridian system was restored. This restoration of Q-energy balance seems to have been realized by redistributing the subject's own Qi-energy. Concurrently with this replenishment of Qi in the subject's lower body, the activity levels of both the autonomic nervous system function and the body's protective function in the subject's lower body were increased. These results strongly suggest that the functional revitalization in the subject's body system took place particularly in the lower body as a result of the healing. This study provides support for the reality of Qi-energy adjustment in the so called Non-Touch Energy Healing, despite the absence of the physical interaction between the subject and the healer.
Healing Experiments Assessed With Electrophotonic Camera
by Drs. Konstantin Korotkov, Kimba Arem, Krishna Madappa, Berney Williams, Len Wisneski
During a workshop demonstrating Electrophotonic Imaging based on the Gas Discharge Visualization technique, a series of experiments were conducted using Reconnective Healing, group intention focused on effecting the energy of a vial of water, and a novel use of a didgeridoo for sound therapy.
The EPC/GDV techniques show the effects of the healing and group intention activities. In addition, the ambient energetic activity of the workshop room was monitored during various eras, using the new antenna device that has been added to the Electrophotonic Imaging/Gas Discharge Visualization camera system. Interesting variation in the ambient energy was observed among the various eras with different workshop activities.
Comparison of Physical Therapy with Energy Healing
for Improving Range of Motion in Subjects with Restricted Shoulder Mobility
by Drs. Ann Linda Baldwin, Kirstin Fullmer, Gary E. Schwartz
Two forms of energy healing, Reconnective Healing (RH) and Reiki, which involve light or no touch, were tested for efficacy against physical therapy (PT) for increasing limited range of motion (ROM) of arm elevation in the scapular plane. Participants were assigned to one of 5 groups: PT, Reiki, RH, Sham Healing, or no treatment. Except for no treatment, participants were blinded as to grouping. Range of Motion, self-reported pain, and heart rate variability (HRV) were assessed before and after a 10-minute session. On average, for PT, Reiki, RH, Sham Healing, and no treatment, respectively, ROM increased by 12°, 20°, 26°, 0.6°, and 3° and pain score decreased by 11.5%, 10.1%, 23.9%, 15.4%, and 0%. Physical therapy, Reiki, and RH were more effective than Sham Healing for increasing ROM (PT: F = 8.05, P = 0.008; Reiki: F = 10.48, P = 0.003; RH: F = 30.19, P < 0.001). It is possible that this improvement was not mediated by myofascial release because the subjects' HRV did not change, suggesting no significant increase in vagal activity. Sham treatment significantly reduced pain compared to no treatment (F = 8.4, P = 0.007) and was just as effective as PT, Reiki, and RH. It is the authors' opinion that the accompanying pain relief is a placebo effect.
New Approach For Remote Detection Of Human Emotions
by Drs. Konstantin Korotkov, Dmitry Orlov, Krishna Madappa
Various instrumental methods have been developed for observing human emotions in psychology, the neurosciences, and machine learning studies. These methods are mostly directed to detecting individual, personal emotions. The focus of this study is developing instrumental methods for remote detection of human emotions, both individual and collective. A new antenna device has been added to the Electrophotonic Imaging/Gas Discharge Visualization camera system. Examples of data are explored from a water blessing ritual, healing workshop training, musical performance, geophysical measurements during a solar eclipse, and a shamanic ceremony. These preliminary indications demonstrate a potential for mapping the effects of human emotions. We propose an international collaborative project for a Geoactive Zones Database: developing maps of energy parameters for sacral subjects and a program for study of their influence on the human psycho-physiological condition; in relation with both the environmental situation, and the health and psycho-types of people.